Interactive Program Information
---
Contact Us
For more information about our program, please contact Krystal Hernandez, program coordinator, at (407) 518-2703.
How to Apply
ERAS: 4001100319
NRMP: 1587400C1
Welcome from our Program Director
Welcome to the UCF COM/HCA Healthcare GME Consortium Psychiatry Residency Program of Greater Orlando!
Our goal is to equip residents with the necessary knowledge, skills and expertise to practice psychiatry in the 21st century. We seek residents who will emphasize the humane application of scientific knowledge, pursue lifelong self-directed learning, utilize efficacious and cost-effective treatments for patients, respond to the needs of individuals and the community, and adhere to the highest standards of academic excellence and professional ethics.
Mission Statement
The Osceola Regional Medical Center Psychiatry Residency Program's mission is to develop the next generation of physicians and physician leaders. As a part of HCA Healthcare, we are driven by a single mission: Above all else, we are committed to the care and improvement of human life.
This program is designed to offer residents a rewarding, educational environment where residents are provided individualized learning opportunities by faculty and staff who support and sustain one another throughout quality care delivery. Our faculty are committed to ensuring the residents' clinical experience and educational needs are fulfilled while expanding residents' perspectives to be inclusive of cultures, values, and ideals.
Program Overview
The UCF COM/HCA Healthcare GME Consortium Psychiatry Residency Program of Greater Orlando is an exciting program committed to providing excellent training in patient care, promoting diversity, equity and inclusion across the training spectrum, and encouraging lifelong scholarly work.
The program provides diverse clinical training sites combined with outstanding didactics and active learning methodologies to cover the entire spectrum of psychiatry from neuroscience and psychopharmacology to the art and practice of psychotherapy.
Residents will do their clinical training at three main hospitals including Osceola Regional Medical Center, Orlando VA Medical Center and Nemours Children's Hospital. Multidisciplinary treatment team settings at Osceola Regional and Orlando VAMC will allow residents the opportunity to work with psychologists, social workers, nurses, pharmacists, medical students and other staff dedicated to patient care in addition to psychiatry supervisors.
Each resident will participate in patient safety and quality improvement projects throughout their training.
Additionally, in light of the increasing burnout and stress that is common in postgraduate medical training, we have placed special emphasis on wellness and meaningful resident connections in our program.
Get to Know the Team
Anuja Mehta, MD
Program Director
---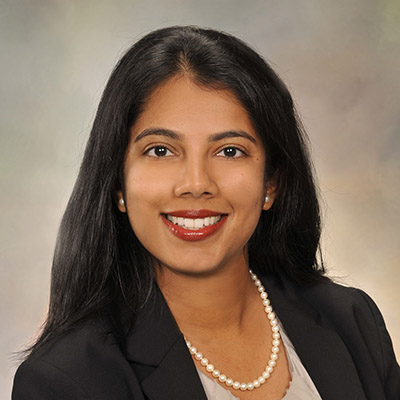 Curriculum & Rotation Schedule
---
Our expertly crafted programs are designed to provide resident physicians with all the experiences and training necessary for professional success.
Conference Schedule
Didactic Schedule
Academic Half Day (AHD) is Tuesday for our program
Junior didactic track for PGY1 and PGY2
Senior didactic track for PGY3 and PGY4
Multiple resources used for didactics
PowerPoints
Journal articles
ASCP and Decker curriculums
Emphasis is on active learning methodologies
Monthly Grand Rounds at Osceola and Orlando VA
PRITE review sessions
Salary & Benefits Information
---
Salary
| Year | Salary |
| --- | --- |
| PGY1 | $55,267 |
| PGY2 | $56,819 |
| PGY3 | $58,587 |
| PGY4 | $60,668 |
Benefits
Leave
PGY 1 – Have 3 weeks of vacation
PGY 2 to PGY 4- Have 4 weeks of vacation
Sick days are provided each Academic Year
To learn more about benefits and policies, please visit UCF Resident Benefits
Meals
Residents are provided with free meals at ORMC. Meal tickets are provided at Nemours.
Parking
Parking is free at all our facilities (ORMC, Orlando VA, Nemours, Aspire).
Call rooms
Call rooms are available for residents during Night Float rotation.
Lactation room
Lactation rooms are available in the GME Suite and in the Hospital.
Equipment
Residents are provided with a work laptop and an iPhone during Orientation. Residents are expected to return these devices at the end of their training.
Connect with Us